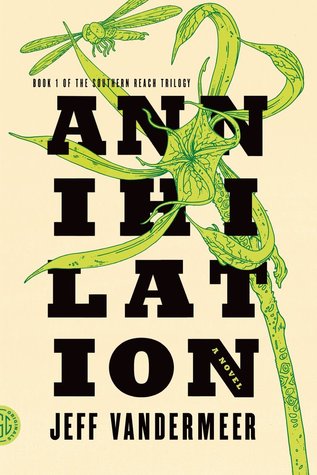 Annihilation by Jeff VanderMeer
My rating: 5 of 5 stars
As I've previously stated, I'm a sucker for an unreliable narrator. Annihilation is short, vague, and contradictory, yet captivating. With less than 200 pages, it feels more like a prologue than a prequel.
Annihilation takes an intricate look into reality and our perceptions of the realities we choose to live in. Told from an unnamed female protagonist's perspective who is a biologist on expedition, we are able to view a mind clouded in uncertainties. This limited range of view is vital to the telling of the story, and although I knew I couldn't trust this woman entirely, I wanted to all the same. She gave a perfectly vague account of an unpopulated area shrouded in mystery, and I found myself wanting to travel there to witness it firsthand, even if I might not come back from it.
Area X is beyond civilization's border, and the only people allowed to cross the mysterious boundary into its wilderness have been specially chosen purely for research purposes. The people venturing into this unknown wasteland are well-trained in their skill sets and are used as variables to explore the constant that is the "uncharted" territory. Accompanying our biologist there is also a linguist, psychologist, surveyor, and an anthropologist. All women; all serving a distinct purpose on their mission. Each of these women have done away with their birth names before setting out, thus attempting to rid themselves of their identities before meeting their awaited fate in Area X.
The biologist, as she had been trained to, observed her surroundings, looking for trends and trusting her senses to tell her the truth about this area that no one seems to ever really come back from. The biologist recently lost her husband to a previous expedition in Area X, lacks emotions. Even when talking about her lost husband, she doesn't seem all that sad. This lack of character development is honestly my only issue with the first part of this trilogy. The main character was not relatable, and anytime this happens, it's a problem. Despite that, I enjoyed reading Annihilation.
I will definitely read the Southern Reach Trilogy, however, I am in no hurry. Because of the writing style, it was not a fast read or easy read. I think to enjoy this one you really have to be in the right mood, and it caught me at just the right time.
4.5 Stars
Goodreads Rating: 3.62
Recommended for: Unreliable Narrator Lovers, Explorers, Reality Escapers
View all my reviews